The Washington-Ankara partnership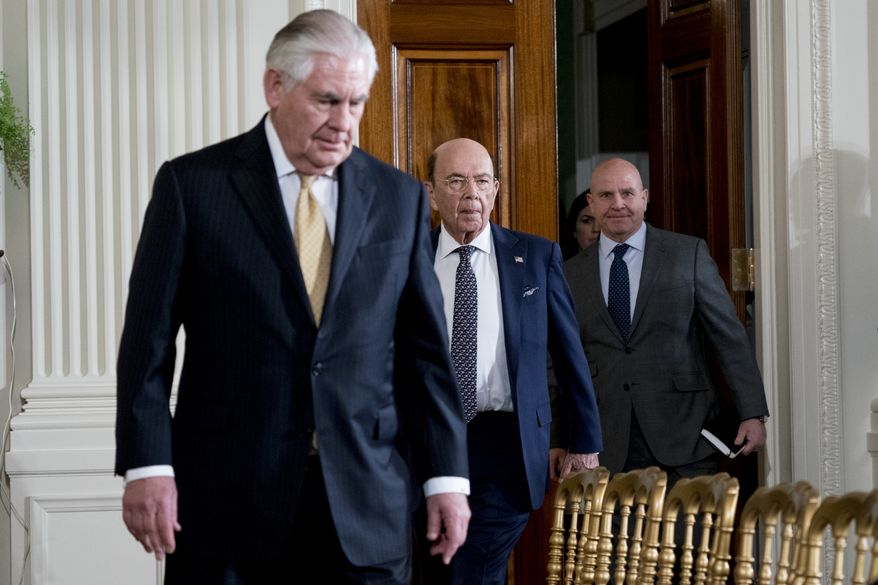 From left, Secretary of State Rex Tillerson, Commerce Secretary Wilbur Ross, and National Security Adviser H.R. McMaster arrive for a joint news conference between President Donald Trump and Swedish Prime Minister Stefan Lofven in the East Room of the White … more >
Demonstrative of what is widely understood as a pressing need for rapprochement between the U.S. and Turkey, last week, U.S. Secretary of State Rex W. Tillerson was welcomed in Ankara by Turkish President Recep Tayyip Erdoan and Foreign Affairs Minister Mevlt avuoglu. A day prior, U. S. Defense Secretary James N. Mattis had a lengthy meeting in Brussels with Defense Minister Nurettin Canikli, on the sidelines of the NATO Defense Ministers Conference.
Perhaps not as proactive as circumstances may demand, however, the interaction amongst top-level U.S. and Turkish officials is, nevertheless, testimony to the indispensable strategic partnership that has existed for more than 60 years between Washington and Ankara. The currently prioritized face-to-face dialogue is concrete recognition of the strategic importance that Ankara continues to garner.
The United States's bilateral alliance with Turkey has proven to be critical in the realm of the multifaceted strategic cooperation in defense that necessarily exists in the region and in terms of the Middle East security matrix, addressing the war against ISIS, Syria's complex security challenges and cooperation in multilateral organizations such as NATO, G20 and other platforms.
READ MORE:
https://www.washingtontimes.com/news/2018/mar/6/the-washington-ankara-partnership/